Najah Al Wanni
Founder / CEO
Najah Al Wanni is the Founder and CEO for Tatweer for Employment (TFE) at American University of Ras Al Khaimah (AURAK) and she is responsible for running all facets of the business. Najah has a proven executive management track record and over 20 years of experience in different organizations including corporate, banking & education, in recruitment & marketing.
Seasoned qualified professional over 20 years experience having worked in different disciplines. Demonstrated expertise in the areas of: Recruitment, Human Resources, Marketing and Sales. Displaying strong business and commercial acumen while delivering cost-effective solutions and contributing to business growth, both financially and operationally. Visionary thinker and an inspirational leader and outstanding team player recognized for creating robust strategies through collaborative approaches to translate vision into achievements. Well developed analytical, problem-solving and decision-making skills with a strong ability to build productive partnerships along with excellent communication skills.
PhD. Hassan El Haridy
Talent Management and consulting in the Service & Sales sectors
PhD. HASSAN EL HARIDY is one of the leader is the service industry in the MENA region. He is the President of Contacts-Plus, MENA and has 35 years of progressive, hands-on experiences in Talent Management and consulting in the Service & Sales sectors
Hassan's areas of expertise include; strategic planning, customer experiences, quality management, training & development, performance management and contact centers.
Hassan is considered one of the leading experts in service/contact center industry as a result of his work in developing service metrics and standards as well as deploying best practices in the Arab World.       
Hassan is a member of various professional associations in the United States including the International Customer Service Association (ICSA), National Association of Service Managers (NASM), American Society for Training and Development (ASTD), School of Coaching, Purdue University- Center of Excellence and Who's Who International.
Imad Eddine Oubiri
Business Development Advisor / Investment Promotion Director
Mr. Oubiri is an expert with extensive significant professional experience in economic and business development and investment development projects, legal affairs, public relations, with focus on international business strategies, market studies and research, corporate policies, contract management and operations. He is a member of the Advisory Board at the American University in the Emirates, School of Diplomacy and Security in the United Arab Emirates, Dubai, and member of the Advisory Board at the American University in Ras Al Khaimah School of Business and an International Jude at the Gulf International Business Awards in Dubai (AWARDS International).
Mr. Oubiri is the Business Development Expert – Investment Promotion Director at the Ras Al Khaimah Chamber of commerce and Industry and Legal Translator – Interpreter at the Ras Al Khaimah International Arbitration and Mediation Center. In recent years, he has contributed to economic investment development initiatives between the public and the private sectors and initiating official business delegations and trade missions to the UAE and abroad. He has also contributed to business articles and publications and has consistently consolidated close relations with economic key stakeholders, investors and decision makers within the United Arab Emirates and beyond.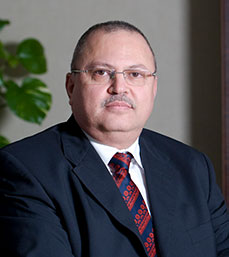 Osama Al sharif
HR consultant
More than thirty years of solid progressive experience in human resource management and organization development in various national, regional, and international organizations. Emphasis on Organizational development, design and restructuring. Also, HR planning, training, policies and procedures, HR start up operations, performance management, reward management and HR management systems. Alsharif's experience includes; organization restructuring, design and implement organization structure also manpower planning, designing, developing and implementing training strategies and development plans; managing the implementation of HRMS; implementation of salary surveys, job descriptions, grades and salary structures; formulating, reviewing & updating HR policies and procedures; supervising the implementation of job evaluations (Hay Methodology, Aon) as well as reward and recognition programs. Furthermore, Implementation of various performance management KPI techniques including the BalancedScore Card, Succession planning and other HR developmental programs. HR role in business continuity plan, HR analytics and remote working is the additions to Mr. Alsharif's experience.
American University of Ras Al Khaimah, Building H, Ground Floor
American University of Ras Al Khaimah Rd. Ras Al Khaimah UAE